Every month, a different part of the store goes on sale. For example, in the month of April 2019, all furniture was 20% off (if you're a senior 62+ or active Military, First Responder or Veteran (with valid ID) on certain days you can receive an extra 10% off the ReStore Rewards learn more here).
For the month of January 2020 all doors and windows are 20% off.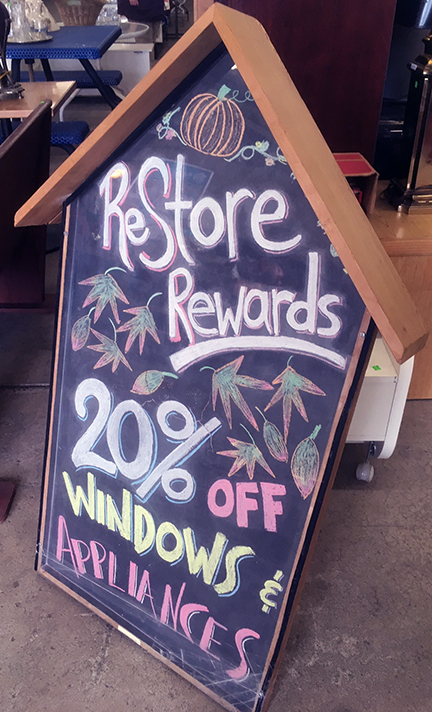 To become a ReStore Rewards Member go to any cashier and ask them for the form to fill out. Should you give us your email address, you will receive ONE, that's right, ONE and only ONE email around 4th of each month about what's on sale for Rewards Members. We will never sell your information to third party vendors as we prefer to treat your information as we'd like ours to be treated. Should you choose not to enter your email address, that's fine too, but to know what's on sale for the month please refer to the house shaped chalk board at the front of the store. It looks very similar to the image to your left.
In the future we may allow you to become a Rewards Member through a form online. At this time, the only way to become a ReStore Rewards Member is to stop by the store at 1210 Oak Patch Road. Which is a good thing, cause we'd love to see ya.
PS: ReStore Reward Members are valid only at Habitat for Humanity of Central Lane locations.

DISCLAIMER: On rare occasions some items may be exempt from any discount.